YOU HEARD IT RIGHT FOLKS!!!
INTERVIEW
(#62 - Madness Reclamation)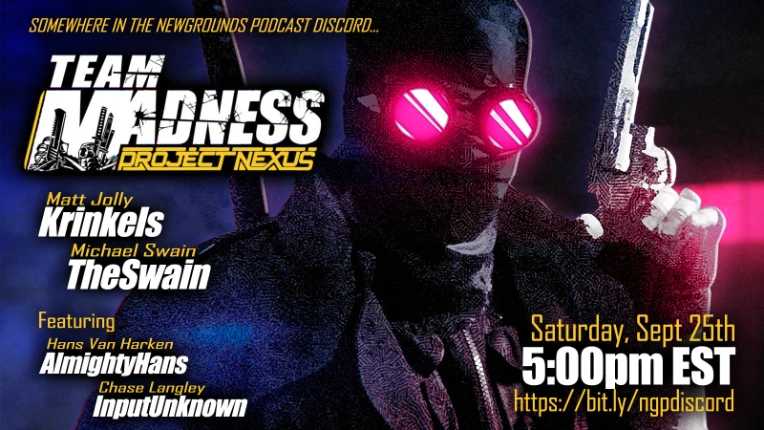 Grab your favorite assortment of weapons and head on over to the NGP Discord this Saturday at 5PM EST!!!
We're going to tie to a chair and open up the cranial membrane of @Krinkels, @The-Swain, @AlmightyHans, and @InputUnknown in order to get the all the juicy details before the highly anticipated Steam release of MADNESS: Project Nexus.
Cracking his head open like an egg, @AlmightyHans will be forced to tell us what it was like embodying the venerable main character of Madness, Hank J. Wimbleton. At knifepoint @InputUnknown will spill the facts on filmmaking, otherwise he might be forced to meet his makers. And about @Krinkels... well, don't get me started on that. Let's just say, he better blow the lid on what the vision was like for Project Nexus, or we might blow the lid on his 2-story condominium conveniently located in the deserts of Nevada on a nuclear testing site.
Yeah, think about that for a minute.
Oh, @The-Swain? Hard to worry about him when it's pizza night every night, you feel me?
WATCH THE MADNESS: Project Nexus TRAILER
~ ~ ~
If you were unable to snag yourself a Block Party Tshirt, then my apologies!
Here is a promotional rap song to make you feel better. It features rap legend @heyopc <3
~ ~ ~
Your favorite robot designer @MindChamber is back in the saddle once again! Fan art for him must be exclusively digital since the post office is pissed they lost the guy who was half-human, half-motorcycle...
...it's an Alloy reference.
...*cough cough*
Speaking of references and jokes that younger audiences can only squint their eyes at, @PsychoGoldfish and @Xinxinix's interview with MindChamber is now up and running in all its Boomer glory. Listen in amazement while at least seven different references fly over Xin's head and MindChamber becomes encumbered having to elaborate time and time again. Meanwhile, Josh is laughing with in-the-know confidence.
Also, anyone else see this masterpiece?