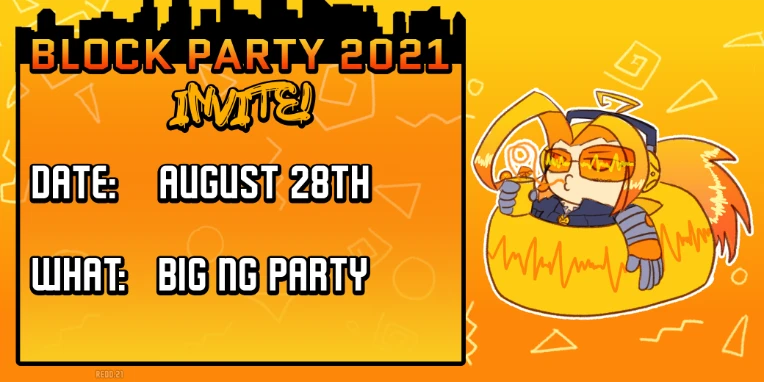 That's right, we're doing it again!
Mark your calendars, because August 28th is the big day! We will be hosting all kinds of fun events, movies, music and party games in our Discord server, from 10:00am EST till around 1:00am!
We're still putting some events together, and the card is subject to change, but here's some of what you can expect:
Art streams with popular artists ALL DAMN DAY!
A theater room where you can hang out and watch NG movies with other users
A game design session with @Stepford, @SlickRamen and @Plufmot at 11:00am EST
A radio room where you can jam out to NG music together
@PsychoGoldfish and @ShitonAStick hosting a game of Champ'd Up with @JohnnyUtah, @Luis, @MindChamber, @AlmightyHans, @BomToons and @IvanAlmighty at 3:00pm EST
Party Game rooms you can join and play with other users (Jackbox, Gartic Phone, Among Us and Tetr.io)
An Improv comedy stream featuring NG voice actors at 8:30pm EST
Free prize giveaways (no need to buy raffle tickets this year, but you DO have to be on the server!)
Ending the party with a movie watch-along (Team America World Police) at 11:00pm EST
If you'd like to donate to the party, the best way to do that is through our Patreon!
We're also asking the community to share any Audio Portal tracks they'd like to here in the radio room. Post your recommendations here!
This is an all-ages party, so you'll be expected to follow the server rules and be mindful of our younger users. No NSFW content!
Check this page for future updates!