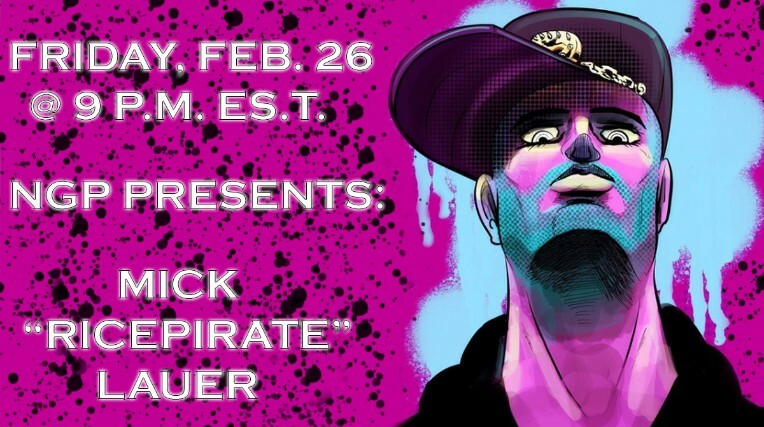 Yo, @PsychoGoldfish here with your Friday update. NGP has been killing it with a ton of great Interviews this month, and we're ending February with a bang (as you can see by the image above)!
Last weekend, I had the privilege of hanging out with @allmightyhans, @eiomaru, @tomamoto and DexTheSwede to hear about all the things they went through to bring Mutt & Chopps to life. We even got teased about some live action Madness stuff that will be coming out soon (and we'll have Hans and Chase back to talk about it!).
You can catch that interview right here on Newgrounds:
Episode 42, where @xinxinix and I got to hang with the creators of Mad Sister's Week Off , is now up on the tubes:
But the best is yet to come!
TONIGHT at 9:00pm EST, @VoicesByCorey and @Xinxinix are going to be chatting live with @Ricepirate, on our Discord Server. Mick just released chapter 2 of his kickass Blood Sun Vendetta series, and the boys want to know all the juicy details about it.
You never know what little tidbits and gaffs will end up on the cutting room floor, so you should definitely try and catch this interview live on our Discord Server @ https://bit.ly/ngpdiscord.
We're still planning some shows for March, but we'll likely be having a fun hangout episode soon, where we get caught up on NG happenings, and play some games. I'll also be getting some people together to talk about the Flash Forward Game Jam (which I am currently scrambling to finish a submission for). And of course, if this year is anything like last year, there may even be some St. Patrick's Day shenanigans.
Follow us on all of our goddamn platforms to make sure you don't miss any of these upcoming events!
~ ~ ~
Patreon
Want to support the show? We are launching a Patreon! The money collected there will be used to pay for content in the show, host more events, pay artists for promo art, and more. Our goal is to elevate the whole community.
https://www.patreon.com/ngpodcast
Theme Music
FOLLOW ON NG | FOLLOW ON TWITTER @TheNGPodcast | FOLLOW ON YOUTUBE | JOIN THE DISCORD