Hey guys, @Xinxinix here!
NGP is stepping its game up and that means weekly news posts, upload schedules, backlog episodes, and an ever-flowing roster of guests to mine information and Newgrounds-related sentiment from.
What does this mean going forward? I dunno, I guess the show is planned to grow and increase in quality. I'll probably have to get a better voice-recording program and we might increase in segments which will hopefully lead to better entertainment for you, the audience.
Speaking of which, do you have any feedback? Are there segments you'd personally like to see? Newgrounds audio reviews? Game reviews? Reviews of reviews?? Maybe you'd like to make something and have us throw it into an episode?
Or maybe you just wanna hear the @SrPelo interview @Will and @VoicesByCorey did yesterday? It was at 9pm EST, and if you missed it, then you're fresh outta luck until Monday's upload!
Our typical schedule is starting to look like:
Interviews between Thur-Sun more than likely late in the day
Uploaded to Newgrounds on Mondays and elsewhere by Wednesday
Friday news posts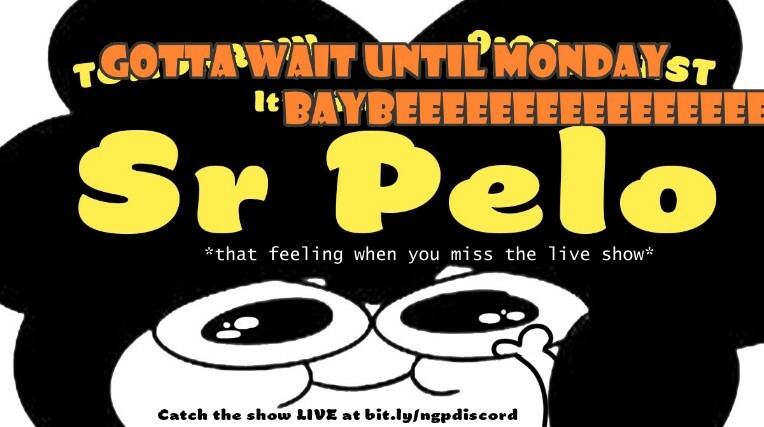 So, yeah, join the Discord if you haven't already.
@meatcanyon's episode is available here on NG and won't be available until tomorrow for YouTube (due to technical difficulties) but we're everywhere else like Spotify and etc!
If you ever thought meatcanyon wasn't personable, then you should probably bop yourself on the top of your head. Or maybe just take the closest folding chair, open it, and fall over it. Or don't do any of those things because I don't want to be responsible for NGP's first PR team.
What's next?
We have a lot of cool names on the upcoming interview roster, but let's talk about MAD SISTERS' WEEK OFF!!!
This SUNDAY SUNDAY SUNDAY AT 4PM EST @PsychoGoldfish and I will be interviewing @Tombdude, @JunDev, and @Prutte to discuss the brilliant Pixel Day game project brought to you out of a love for dialogue, collecting, Newgrounds, and original characters. It has super solid gameplay T.T
I've personally put in a bunch of time, and collected all the neat 'lil characters except for one.
So, yeah!! Extra work, extra content, extra interviews, extra... stuff?
Yeah. TheNewgroundsPodcast, everyone. We live to please.
Thanks!